Katmai
National Park and Preserve is an area approaching the size of Wales, and lies in the South of Alaska. Bounded by mountains and the sea to the East, and running out into the forests and marshes to the West, it is home to volcanoes, thousands of years of human history, and bears.
My most recent visit was in the summer of 2015; I spent it volunteering with the National Park Service at
Brooks Camp
, assisting with interpretation and bear management.  It is a pleasure to share here a little of what I captured in my hours off duty.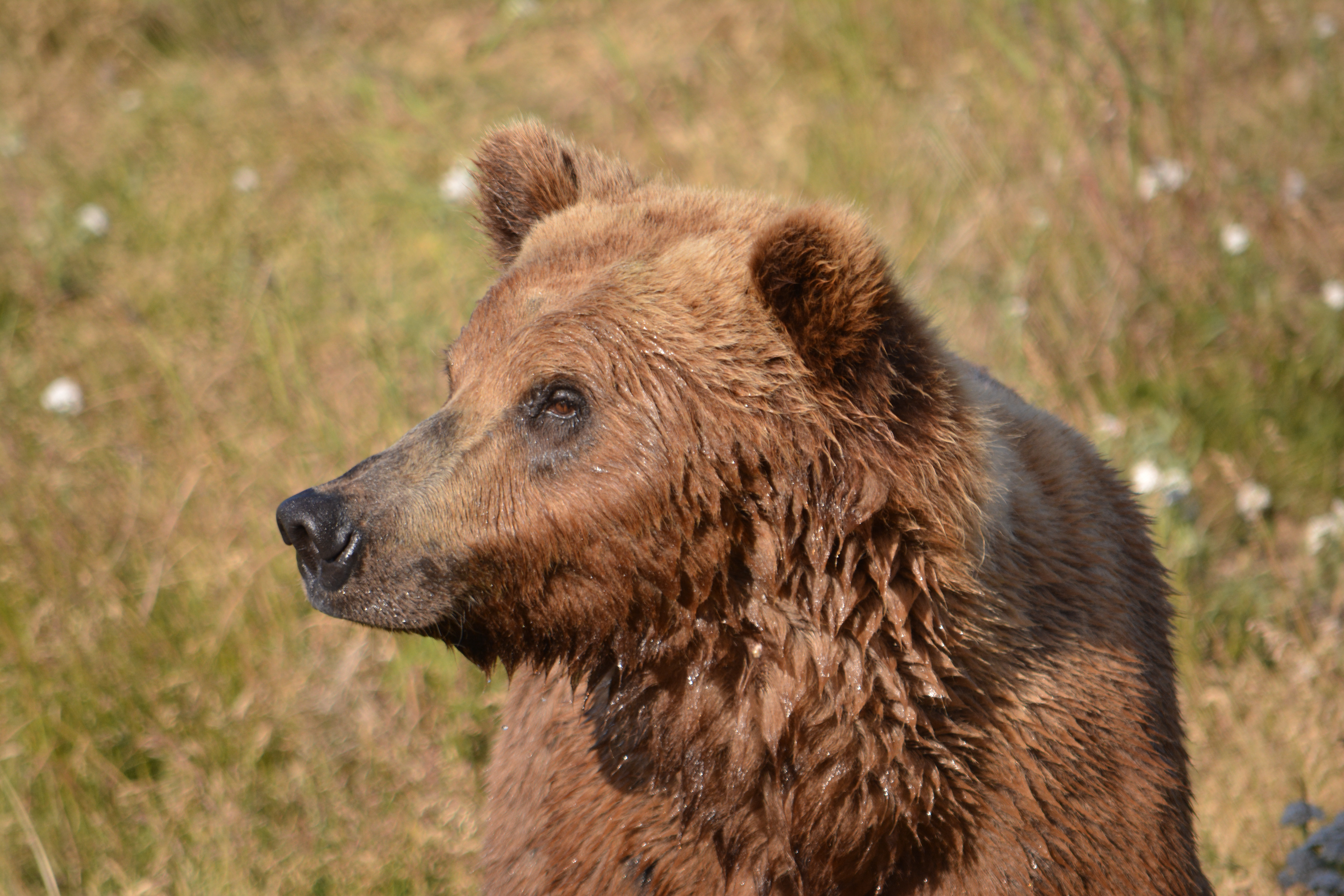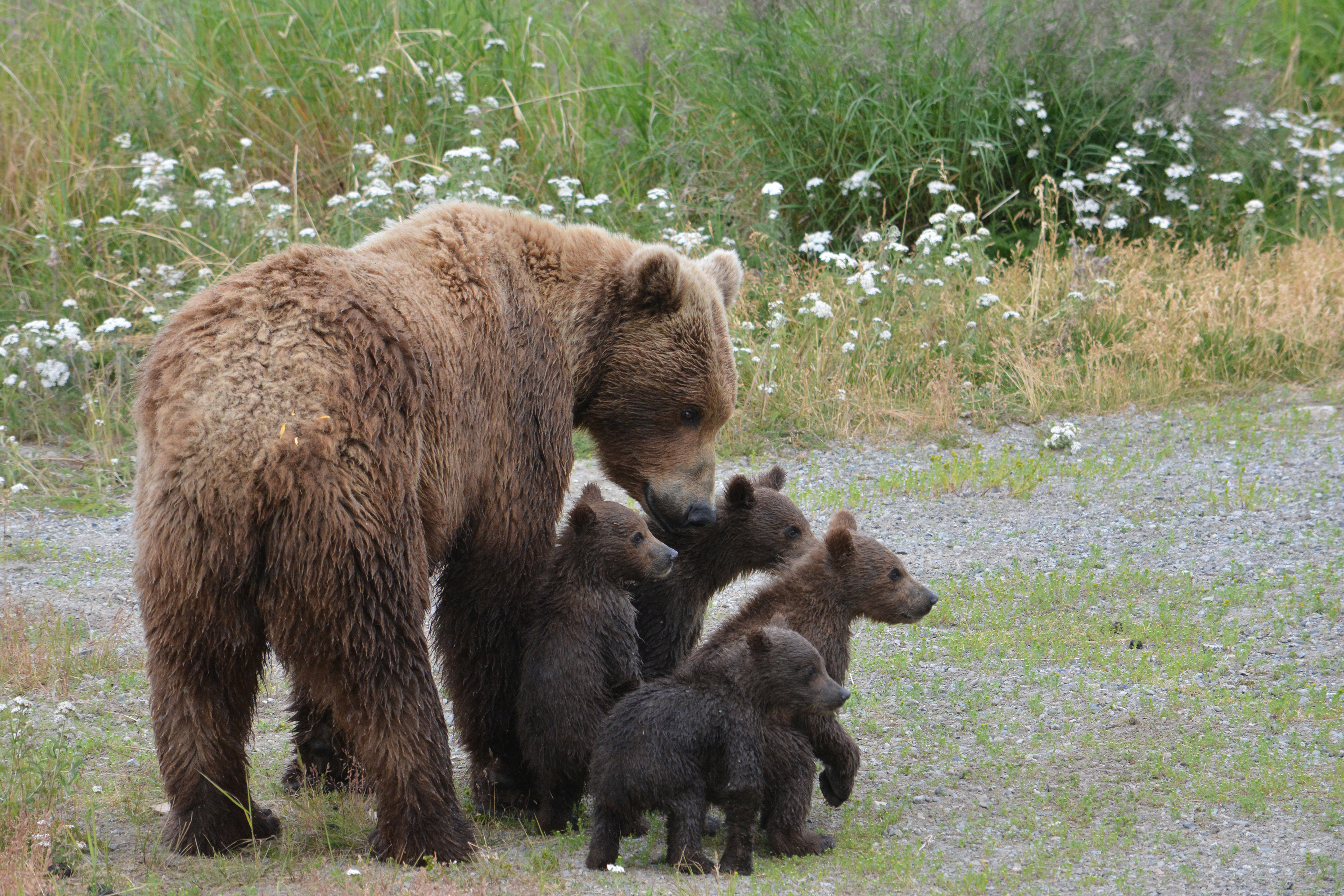 When I briefly visited Brooks in 2013, I was lucky enough to see two sets of cubs - three yearlings to bear #409, and three springers to #402. Unfortunately, two of #402's cubs didn't make it through the winter, and the third became separated from her (more on him later).
#402 was mated again in 2014, and returned to the Brooks river with her four springers in the summer of 2015. I was on a day off, though still had my radio on my person, as is common at Brooks. When the hew and cry went up, I was at one of the falls platforms, around a mile west of where she had been sighted. I packed my gear and hurried towards the lower river.
One can only hurry so quickly along a path in bear country, and I was especially mindful of this, already having had several relatively close encounters at Brooks that had necessitated moving off the path to allow the bear(s) ahead to go about their business. At Brooks, the bears often use our paths and roads, in addition to the natural game trails, to cover ground more quickly. Thankfully, on the day of #402's arrival, I didn't have any encounters on the path, and made good time to the lower river, though was still too late to see much more than a few brown specks disappearing off into the marshland.
By the time you're reading this, the arrangements at the lower river will have likely changed, with a permanent elevated bridge being planned, but in 2015, there was a floating bridge across the river, with a small elevated platform at its southern end. The bridge was not bear-proof, merely somewhat bear-resistant, and so the platform provided a refuge for visitors, and a place for rangers to monitor the lower river for bear activity. It also provided a handy place for me to wait for #402's return. So I waited, and was rewarded with the shot above.
In 2016, #402 returned with three yearlings, though she lost one of them shortly after.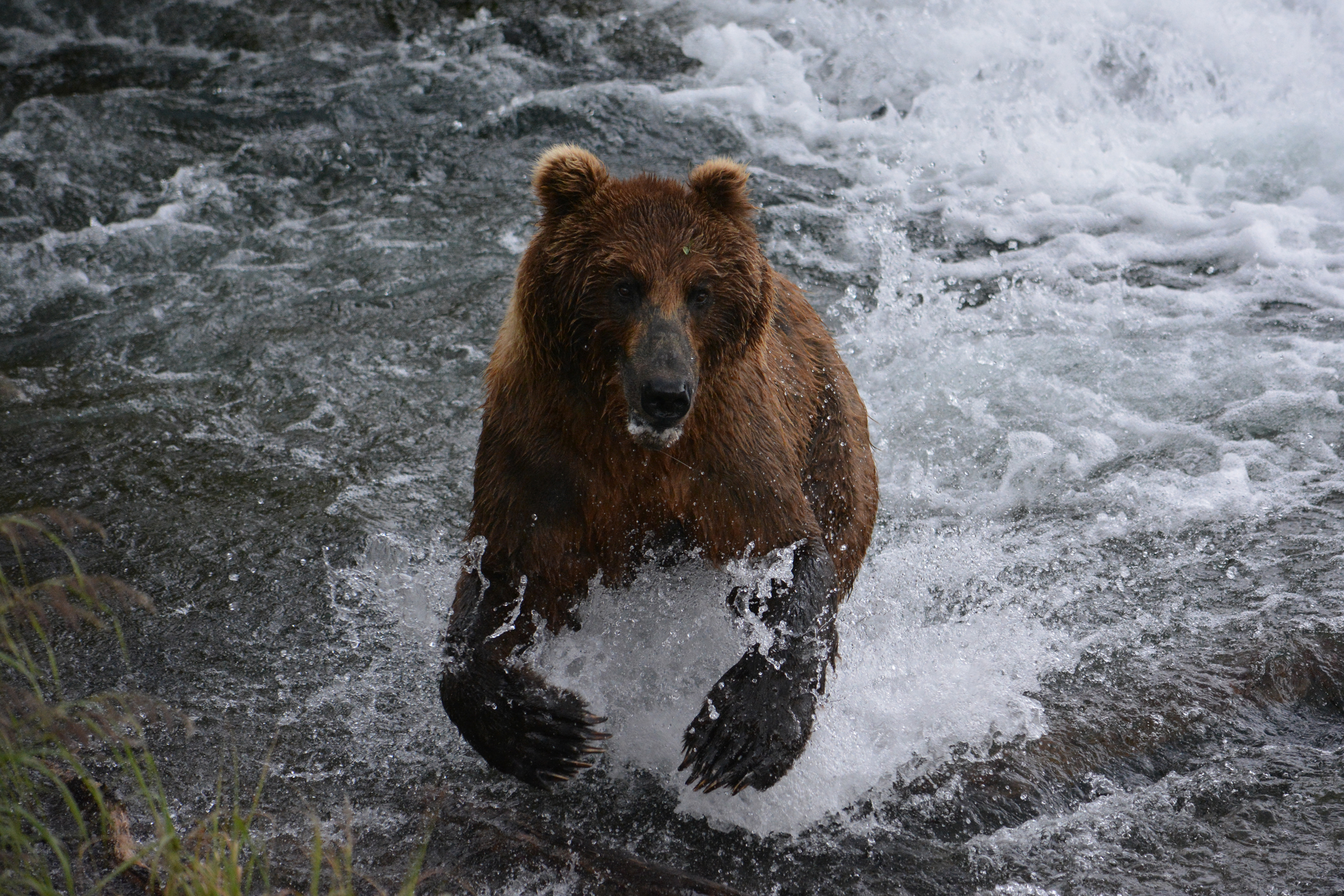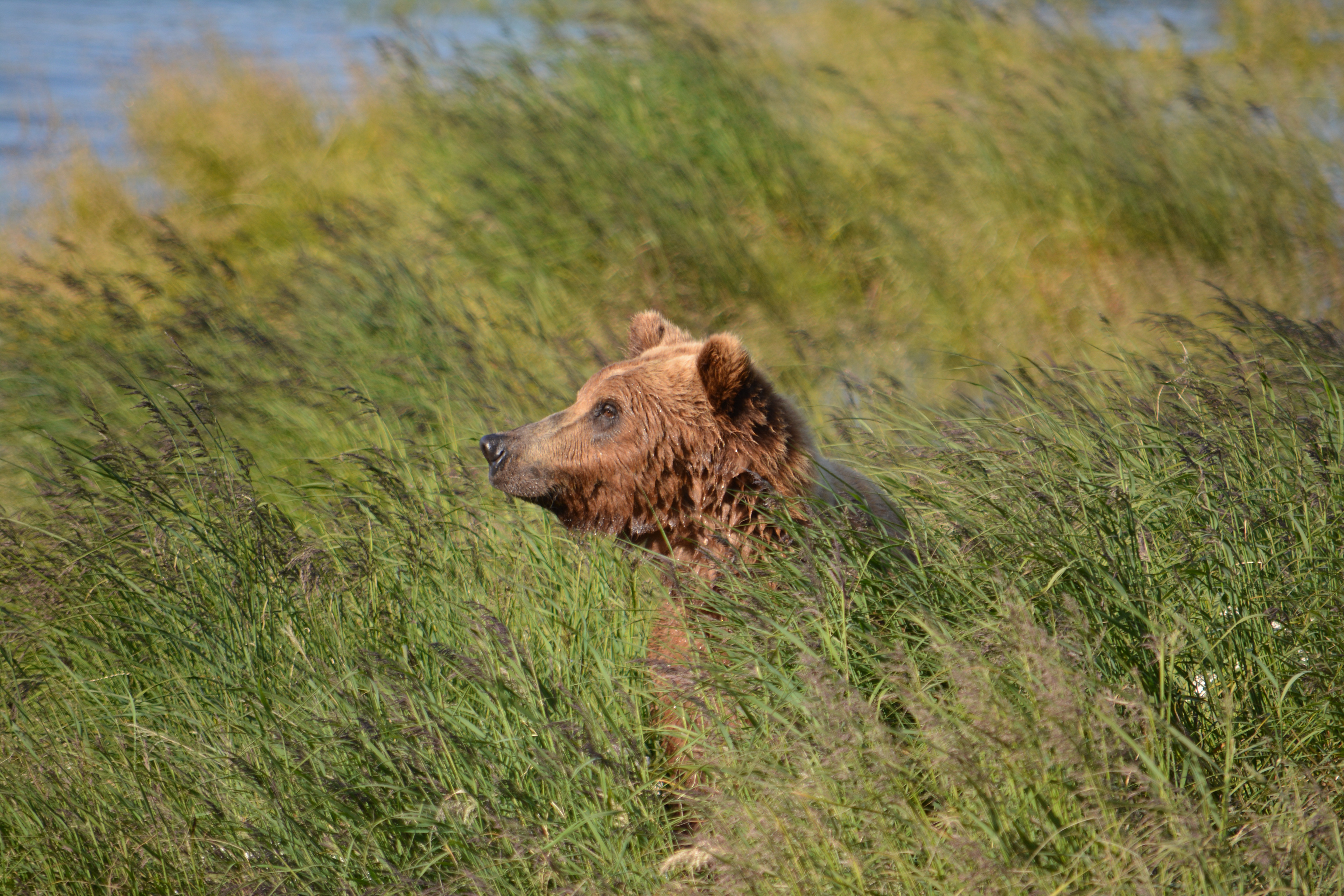 This panorama shows, believe it or not, a relatively quiet day at the falls. I've got instances in my notes of well over twenty individuals present, but alas, I couldn't carry a camera whilst working.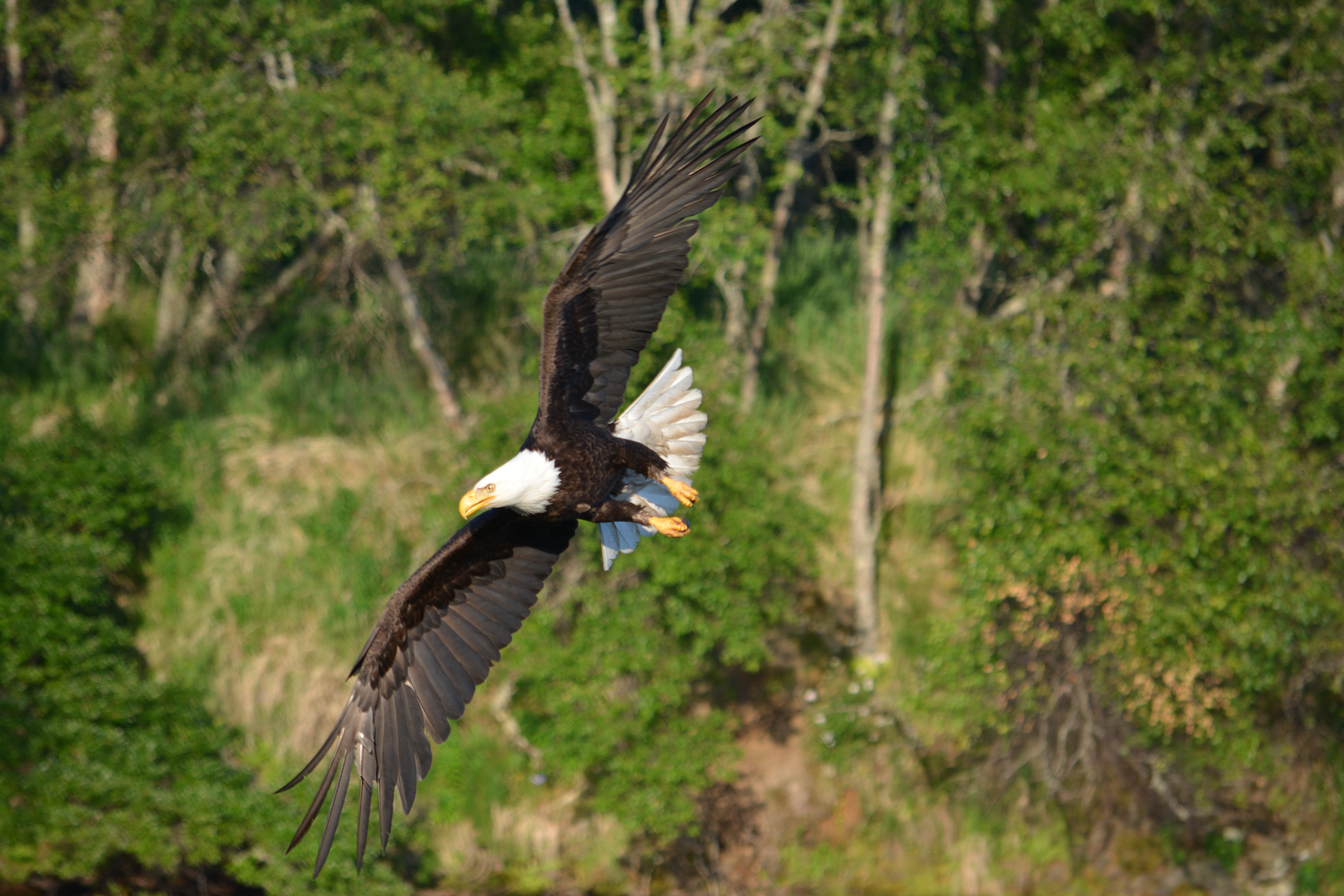 In the failing light of one evening, I borrowed my boss's 200-400mm f/4 to capture this shot of bear #814/Lurch. Previously one of the most dominant bears on the river, he'd been in a pretty major fight shortly before I arrived at Brooks. His cheeks were scarred up, and, as is evident in the shot above, was missing his right ear.
He spent the summer of 2015 adjusting to his new, rather lower, place in the hierarchy of the river, and displaying a rather different temperament to that which he'd shown when killing bear #435's single springer in 2009.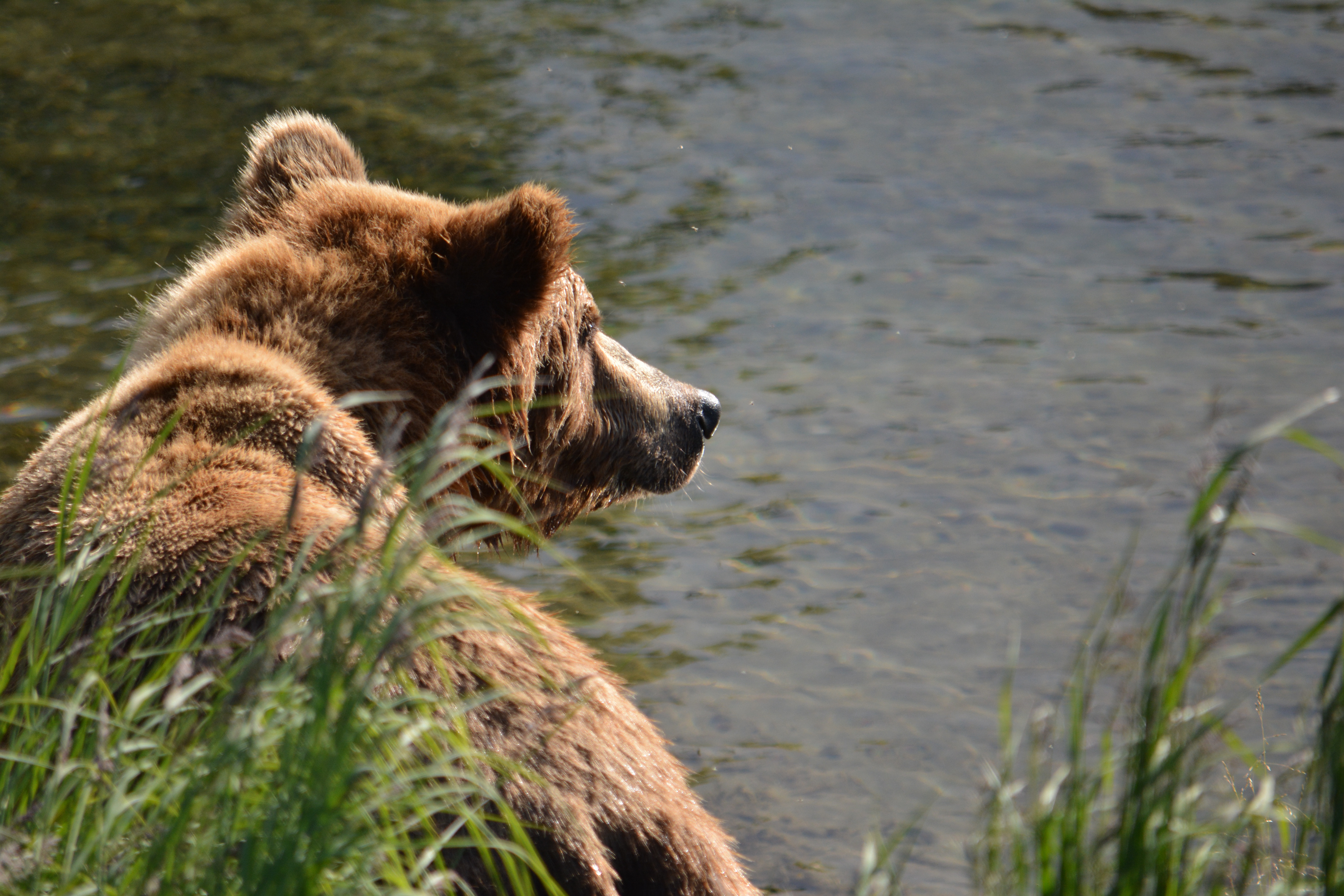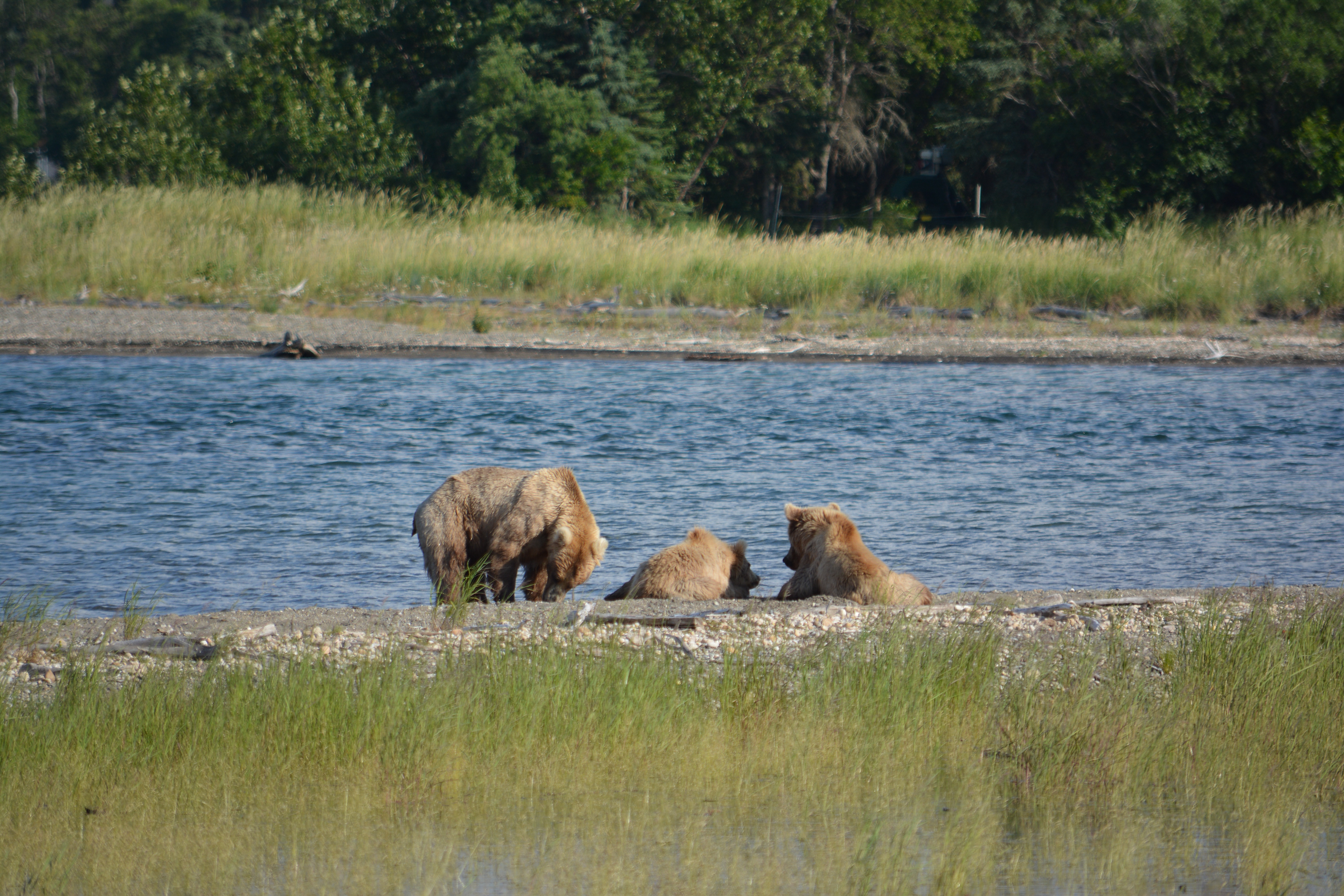 At first glance, the shot above looks like a pleasant scene of a mother and two yearlings. It's not - it's something a whole lot more special than that.
The leftmost bear is #435, also known as Holly. In the middle lies her yearling. And the cub on the right? He's not hers. He's a whole year older than the yearling in the middle. He's one of #402's cubs, the sole survivor of her litter that I saw in 2013.
Adoption like this is virtually unheard of in brown bears, and yet it happened. In 2014, after becoming separated from his mother, #402's cub (dubbed Cubadult after he became separated) started following #435 around. Despite having a springer of her own at this point, and the Park Service not being aware of any relatedness between her and #402, #435 allowed Cubadult closer, and eventually allowed him to suckle.
By the time I saw the family in 2015, Cubadult had grown to be bigger than #435. In a more normal family grouping, he would have been driven off by this point, but instead he remained with them for the time I was there, #435 perhaps confused as to what to do, having two cubs with a year age gap. I have since heard that at the age #435's own cub would normally be expected to strike out on its own, both cubs were left to become independent.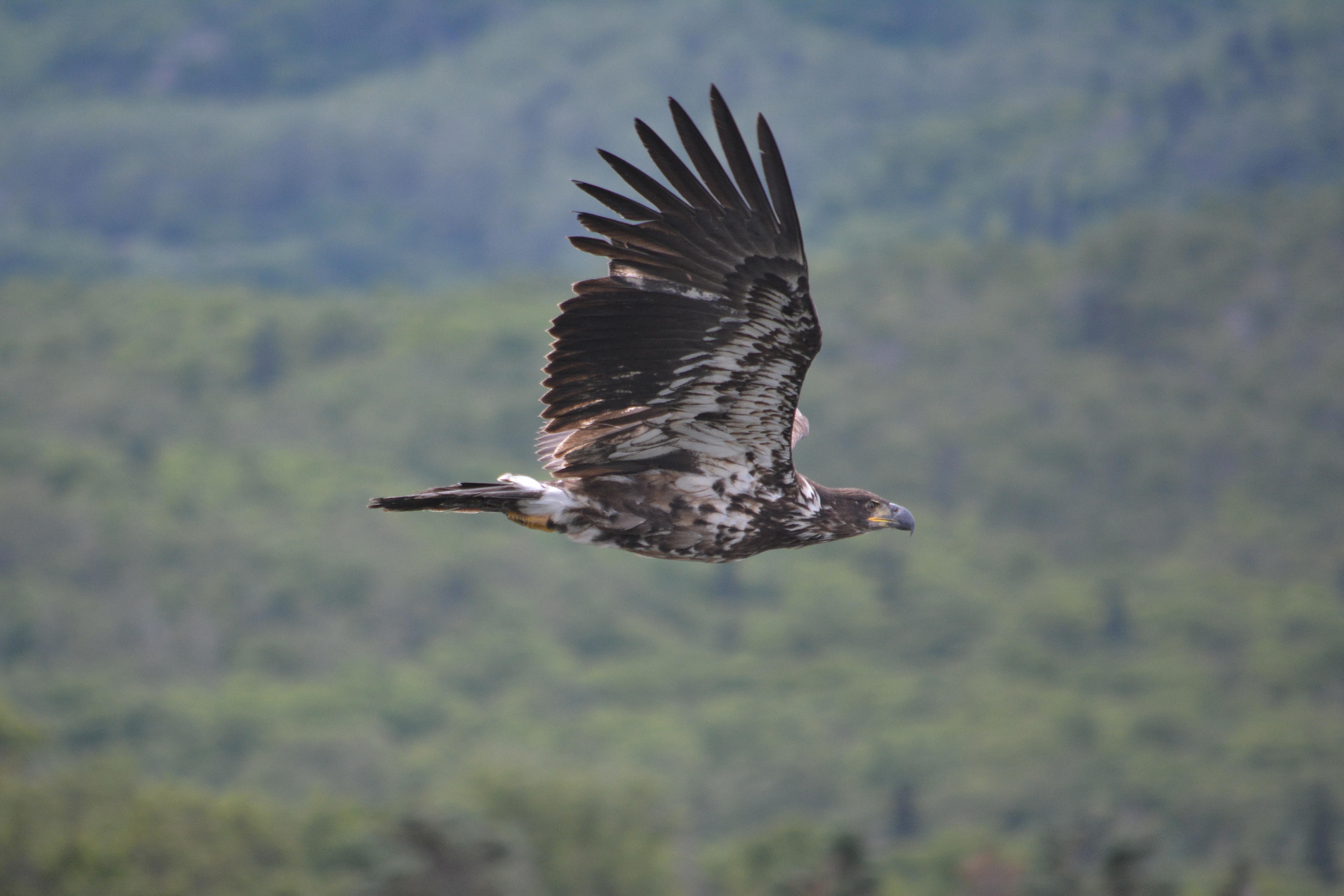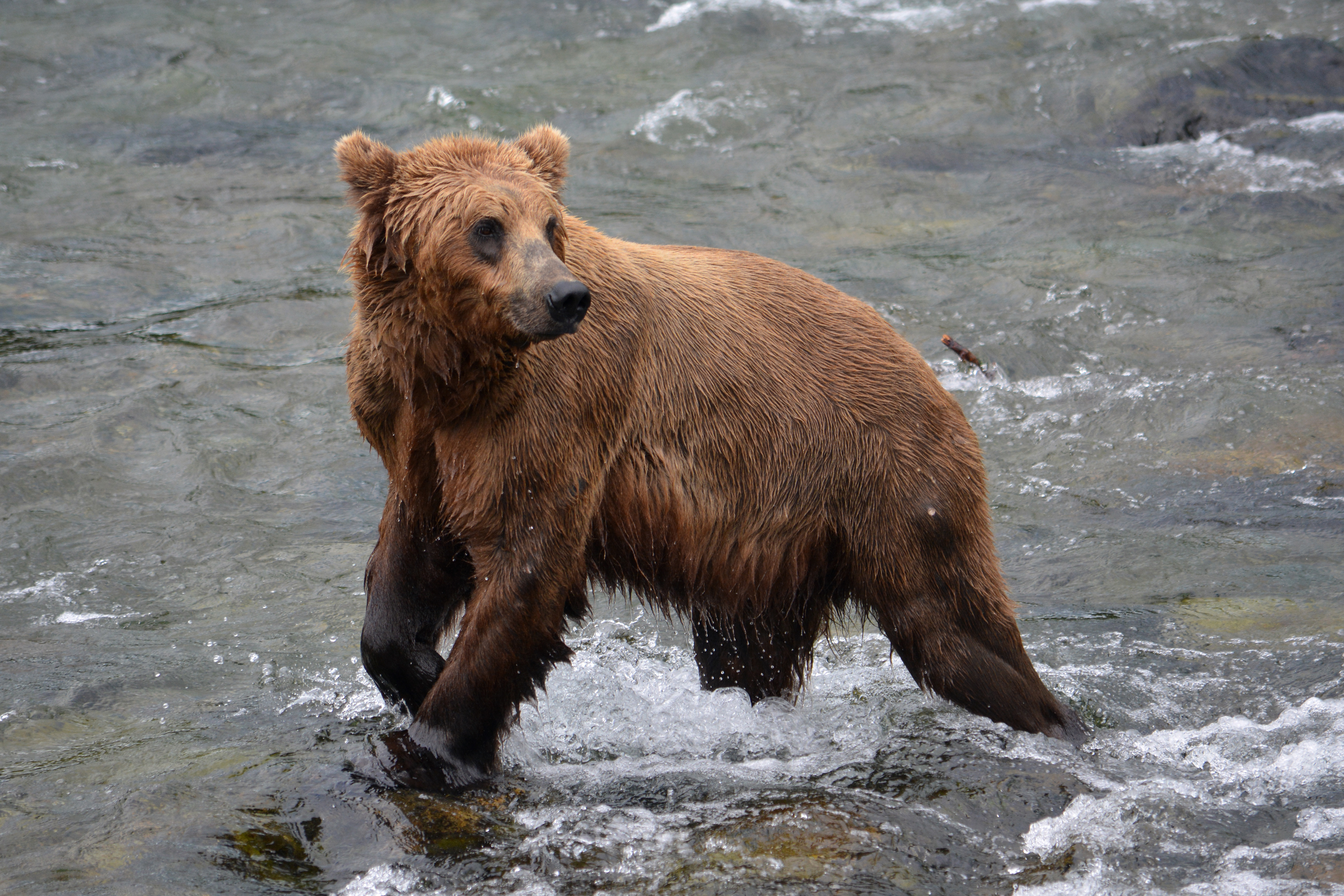 Want to see what's happening at the falls right now? Explore.org has cameras positioned around Brooks Camp
broadcasting live
in peak season.